Our setting

We will make you welcome in our superb 16thC building, restored to the highest quality
where the timeless authenticity of ancient stone and wood marry perfectly with the contemporary
feel of cool design. Nestling in the heart of the rolling, green countryside of southern Burgundy,
we can be found on the quiet lanes which crisscross this wonderful natural setting comprising
rich pastureland and peaceful hamlets.
Our sublime collection of prestigious, rare or unique motor cars are exhibited on the
ground floor of this beautiful building, protectively guarded by the majestic beams of this
imposing and original timbered structure.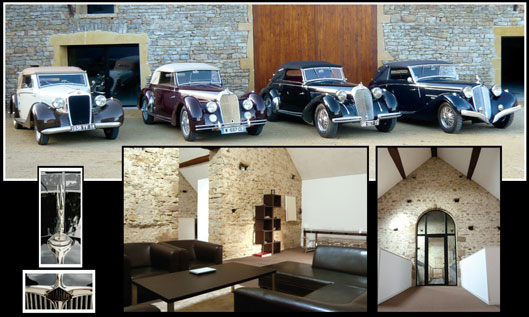 Climbing a few stairs, and from the vantage point of the perforated metal walkway,
it's possible to admire our precious gems from this unusual angle, appreciating fully their
curves and dimensions. Behind a distinctively contemporary glazed entrance, we have arranged
our offices, reception area and business centre, thus perfectly uniting our automotive heritage with
the practical requirements of a functional, dynamic workspace.